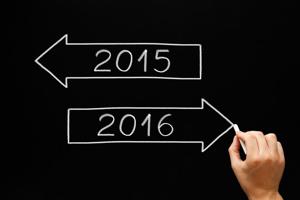 Happy New Year! Believe it or not, 2016 is actually here. "Time is a train, Makes the future the past, Leaves you standing in the station, Your face pressed up against the glass" (U2, "Zoo Station" from Achtung Baby). So as the train keeps moving, how are you looking forward into the new year?
I think it's not only important to ask ourselves if we are looking forward but also where we are looking.
2015 is done. We look back to celebrate, remember, and learn but not dwell there. There is much to be lost if we choose to live in the past. And it really is a choice. Choose to begin looking forward in 2016. Where we are looking also matters quite a bit. My guess is, if we keep looking in the same places we've been looking year after year, and keep coming up empty, perhaps we should try looking somewhere else.
What if you gave God another try? What if you tried looking into church for the first time? What if you focused more time and energy on healthy relationships and those that should be?  What if you looked toward your relationship with Christ as a place to find the things you're looking forward to this year?
Here are a couple things I'm looking forward to in 2016…
*I'm looking forward to seeing my youngest learn to walk and my older two learn to ride bikes.
*I'm looking forward to seeing how God uses our church, Gateway Community Church, to connect with our community.
*I'm looking forward to continuing to learn what it means to follow Christ.
*I think I can honestly say I'm looking forward to being a member of a local gym and being more physically active.
*I'm looking forward to seeing some live music this year and hoping Pearl Jam will be at least one of those shows. I would also add to my concert "wish list" for 2016: Jack White, Trampled By Turtles, Bronze Radio Return, Chris Cornell, and Nathaniel Rateliff & The Night Sweats.
How about you? What are some things you are looking forward to in this new year?